Featured Artists
Previous Featured Artists
Steve Prachyl, Brushed Metal Artist
A Behind the Scenes interview with our APT featured artist Steve Prachyl

"...Optical art is brain candy...I want my work to generate an immediate sense of movement, with a tinge of vertigo as the ultimate goal."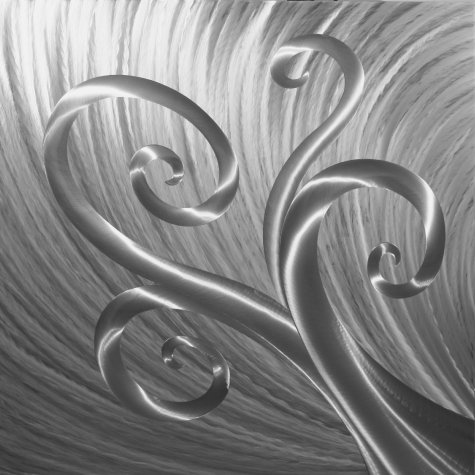 "My intent...is that the viewer, while concentrating on the curve, line, textures and transitions, should get a chance to drift off into hypnotic thought, perhaps into a trance-like state. Or at the very least achieve a sense of euphoria. Ah, a sense of euphoria. I like that..."
Steve Prachyl painstakingly creates optical illusions in metal. His two-dimensional brushed-metal art work seems to move as you walk past it -- watch these very brief videos which demonstrate this...
Q. At what age did you first realize you were meant to be an artist? Was there a famous artist in particular that inspired you in your earlier life?
A. At around ten years of age I definitely showed the skills and desires I practice today. But actually 'realizing I was meant to be one' is a different story, i can't say there was ever a pivotal 'moment', for me anyway. In regards to other artists, I admired Brancusi's work; he has a crisp, highly stylized and minimalist approach.
Q. Can you share with others how you best create your work and how you get inspired?
A. I work best late at night. I am very production oriented, and don't sit around and wait for the muse to come calling. I sometimes create similar but distinctly different versions of a piece, expanding on a series I've done. I usually get flashes of inspiration, then jot them down and work them out on paper. Often an idea gets prototyped 3 to 12 times before a larger final piece is attempted. These studies get scratched out, trashed, stepped on... Final pieces are more like performance art, I don't like making adjustments late in the game. When working, I prefer to listen to talk radio, short stories on tape, or other intellectual stimulation, TED.com gets pulled up a lot, NPR, constantly.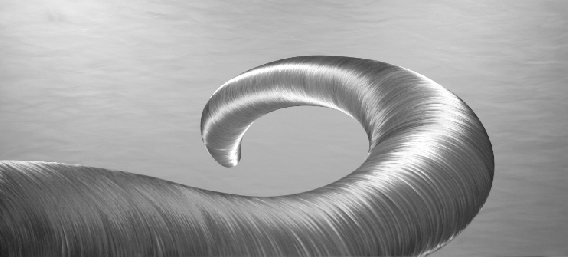 Q. What kind of reaction would you like to get from those who view or buy your work?
A. The same kind of reaction one might have viewing the Grand Canyon or any unusual works of nature. An emotional yet also intellectual reaction of someone viewing scientific phenomena, as opposed to social commentary. I want people to think about the science and physics behind my work; the mechanisms of light, and where color comes from. When viewing the work, I want people to have have a question and answer dialogue in their head, and to induce a sense of discovery that allows them to solve and resolve these questions about light and reflection.
Q. What is the one thing your art has taught you the most about life?
A. Dedication produces results!
You can view more of Steve Prachyl's work up close, or on his website.
www.steveprachyl.com | steveprachyl@sbcglobal.net | 214.732.3206